Richard Reeves
The Liberal Democrats will block parliamentary boundary changes if rebel Tory MPs kill off plans to reform the House of Lords, a senior aide to Nick Clegg has warned. Richard Reeves, the Deputy Prime Minister's outgoing director of strategy, said there would be "broader consequences" for the coalition if it failed to win a crucial vote next week on Lords reform.
Some Conservative backbenchers are deeply opposed to Mr Clegg's plans for a mainly-elected upper chamber are threatening to combine with Labour to defeat a programme motion limiting debate on the legislation in the Commons. In an interview with The Independent, Mr Reeves admitted without the time limit, the chances of the Bill reaching the Statute Book were "vanishingly small" as opponents would be able to talk out the proposals.
He made clear that if that happened, the Lib Dems would block plans to redraw parliamentary boundaries and cut the number of MPs from 650 to 600 - a measure which some experts believe could give the Tories an additional 20 seats at the next general election. "Anyone who thinks Nick Clegg will shrug his shoulders, say 'never mind' and 'everyone tried our best', will be in for a rude awakening. That is not going to happen," Mr Reeves said. But despite the tough talk, Mr Reeves said the Lib Dems would not walk out of the coalition, which would be "crazy", or block Tory public service reforms.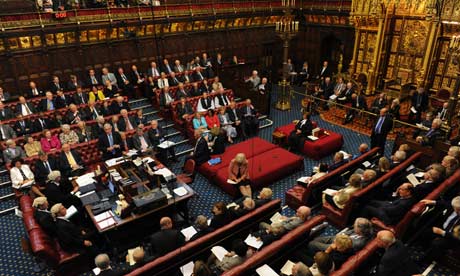 The House of Lords in session
Senior Lib Dem MP David Laws sought to play down the prospects of a clash with Conservatives over the timetable for the Bill. He said that both parties had included a commitment to Lords reform in their manifestos at the last general election.These were commitments made by Conservative MPs as well as Lib Dems and we expect the vast majority of coalition MPs to support this and we expect it to go through next week," he told Sky News.