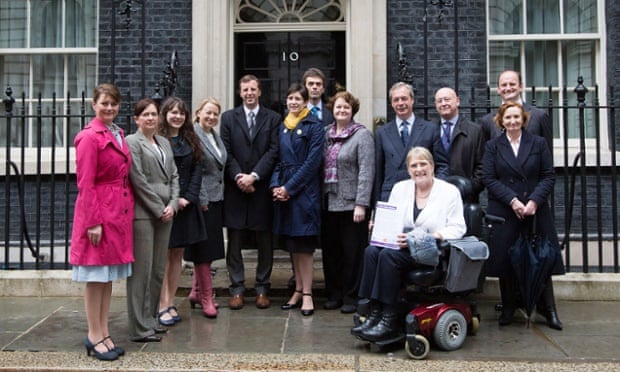 Politicians and campaigners outside Number 10
Natalie Bennett, Green Party Leader, and Amelia Womack, Green Party Deputy Leader, joined campaigners and politicians to deliver a petition calling for reform of the electoral system. Over one million people voted for the Green Party at the General Election, which saw Green MP Caroline Lucas re-elected with an increased majority in Brighton Pavilion.
Leading figures from five of the major parties, including Natalie Bennett (Green) Nigel Farage (UKIP), Douglas Carswell MP (UKIP), Sal Brinton (LD), Tom Brake (LD) and Leanne Wood (PC) came together to add their names to a
120,000-strong petition
calling for a fairer voting system. The petition and hand-in was organised by the Electoral Reform Society and Unlock Democracy.
Natalie Bennett said: "The case for electoral reform is stronger than ever. Millions of people in Britain were disenfranchised at the last election, as the creaking old voting system failed to take into account people's views in our new multi-party politics."
Ms Bennett continued: "If this Government is serious about re-energising our politics, they must look seriously at constitutional changes which allow people's opinions to be better represented in the House of Commons. I'm pleased to be joining together with other parties today to be calling for a new voting system which allows a variety of voices to be heard in Parliament."
Bennett and Womack were joined by politicians from the Liberal Democrats, the SNP, UKIP and Plaid Cymru in signing the petition during a photo call at Westminster's Old Palace Yard. They then handed the petition in at 10 Downing Street. Polling released shortly before the General Election revealed that
74% of the public support the principle of proportional voting,
where votes are accurately translated into seats.