The Labour candidate for London mayor, Ken Livingstone, has failed to respond to "several" invitations from the Sun newspaper to take part in a live web cast question and answer session. This is despite Mr Livingstone accepting a number of invitations for question and answer sessions including from the
Guardian
where he answered a question from myself on fares which to be frank was less than truthful.


Is it an oversight from Mr Livingstone's campaign team - lead by Simon Fluster, sorry that should be Fletcher, or as I suspect he is simply, and to use a term of Mrs Thatcher's, to "frit" to face them.

It is more likely that he knows Sun readers aren't stupid, will not believe his excuses for the countless broken promises, when mayor for eight years. The £2,700,000,000. of unfunded promises that the Conservative party revealed and the fact he has avoided paying a large amount of income tax whilst at the same time ridiculing "rich b******s" for doing the same thing.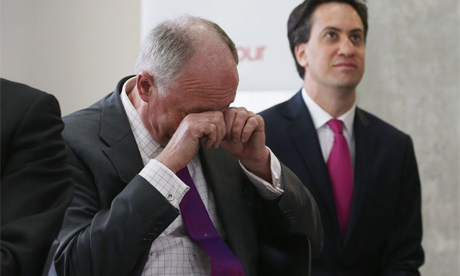 Ken & Ed watching the paid up & scripted PEB
Mr Livingstone who has faced ridicule for "weeping" as he watched the Labour party party election broadcast which aired this week. It was purported to be of "ordinary Londoners" saying "come on Ken". These people turned out to be scripted and paid up people from an advertising agency saying exactly what Ken had told them to say - so why the tears?
The Conservative candidate, Boris Johnson, and the Liberal Democrat candidate, Brian Paddick, have both accepted the invitation from the Sun. Both will appear separately on Tuesday 17th April. Mr Paddick will appear at 11:30 and Boris Johnson will appear at 14:30.
Unfortunately the Sun have only asked the three main party candidates. I'm sure the other four would be happy to go and answer the questions of Sun readers should the Sun change their minds and invite them on. Just because Labour's Ken Livingstone is to "frit" to accept and is running away from them doesn't mean others will be.Th